by selene on Jul.18, 2009, under Portfolio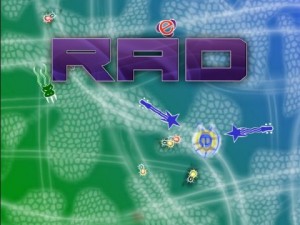 eFusjon RAD is a game promoting the eFusjon energy drink, launched in July 2009.
In RAD you control the Efusjonaut, and must absorb eFusjon to neutralize free radicals while avoiding toxins. The Efusjonaut is controlled with the mouse, and can switch between an offensive toxin-eliminating mode and a passive free radical-neutralizing mode.
I came up with the gameplay concept and led the project. A graphic designer came up with the look and feel for the menus and an animator/artist created the main game art and sprites. I incorporated everything into Flash, set up the overarching code structure, and programmed the gameplay and scoring. Other developers worked on the leaderboard score submission, some of the menus, and the instructions. After some testing showed that people were confused about how to play, I came up with and implemented the idea of adding pop-up tutorial messages in-game explaining things.
Links:
eFusjon Gaming is the official game website, including details about the promotion
eFusjon RAD is the page where you can play the game. Registration is required because the game is part of a contest.
:flash, game, game design, game development